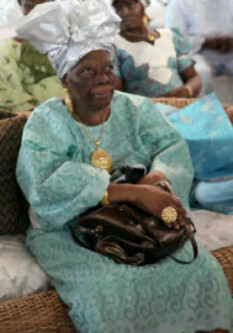 TRIBUTE TO MY GRAND MA (ALHAJA ASHABI ORITOKE OLOYEDE)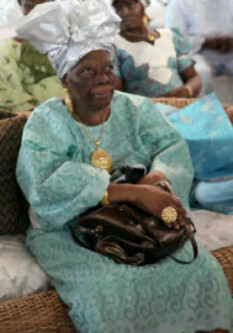 Ijeja omo ore, omo ka fi ore we, ki a fi ashegbe shora, ore owo asegbe omo
Maami as we fondly called her was more than a grandmother , she was many things to different people a mother, grandmother, a caring great grandmother, a financier, a philanthropist, an helper, but to me she was a pillar and EVERYTHING.
How I wish our Aged and Old ones could live forever, I never thought a time would come when my Grandma would go to the world beyond.
When it seemed like the world had turned against my sister and I, we found solace in her
When it looked like we were never going to have a future; she was there to put us through
Oh! How I will miss her telling me stories of how hard she has worked and helped many people achieved their dreams
Maami always encouraged and reminded you of any dreams or goals you want to achieve, she will help you keep a tab on it,maami would push you to success
Maami doesn't enjoy anyone keeping late nights and she would always tell me "OLAMIDE MA FO NA…Lo GUN 'BRIDGI' NI" and "ILE YA….WA MA LO LE…MI O LE IE OOO,ILE TIN SU" each time I went visiting
My Grandma was the only one who called me my Muslim name and also sing praises of me with my ORIKI……. Ayoka
Maami feared no one but God, even till death
No matter or issue passes maami by, she would contribute her quota and she always made sure she had a say.She would tell you point blank if you did any wrong or found wanting in any situation
My Grandmother was a financial pillar to me, all through my university days
She didn't want to hear any of her grandchildren complain of lack, she would go the extra mile to get whatever it was
Even on her sick bed, she still made sure we didn't have any need
I used to be a very careless phone user, twice, my grandma paid for two different phones of my choice at two different times….(Two of the uncountable things she did)
I will miss gossiping about my mum and other aunties with my grandma, we would make fun of them and even mimic them sometimes
My grandma made me love Abeokuta while I served there during my NYSC; she was always looking forward to me telling her about the developments of the town, I dared not say anything bad about Abeokuta or even about Former President Olusegun Obasanjo because he is from EGBA
To my sister; My Grandma was all in all, she had lived with her since she was 3 months old, and I dare say she was the best thing that ever happened to her
I thought I would be able to withstand and comprehend the news of her demise, oh NO!! how wrong I was, couldn't help crying, throwing up and the dysentery I had for about 3days.
Words are failing me right now, can't find the word to use to describe my loving and ever fashionable grandma, SHE WILL BE GREATLY MISSED
Alhaja Ashabi Oloyede lived a well fulfilled life and impacted so many lives; we can only but rejoice for a life well spent
Sun re oo ASHABI ORITOKE…ONI KOYI ESO!!!!!!!!!!!!
Your Lovely Grand Daughter
Olamide Ayoka