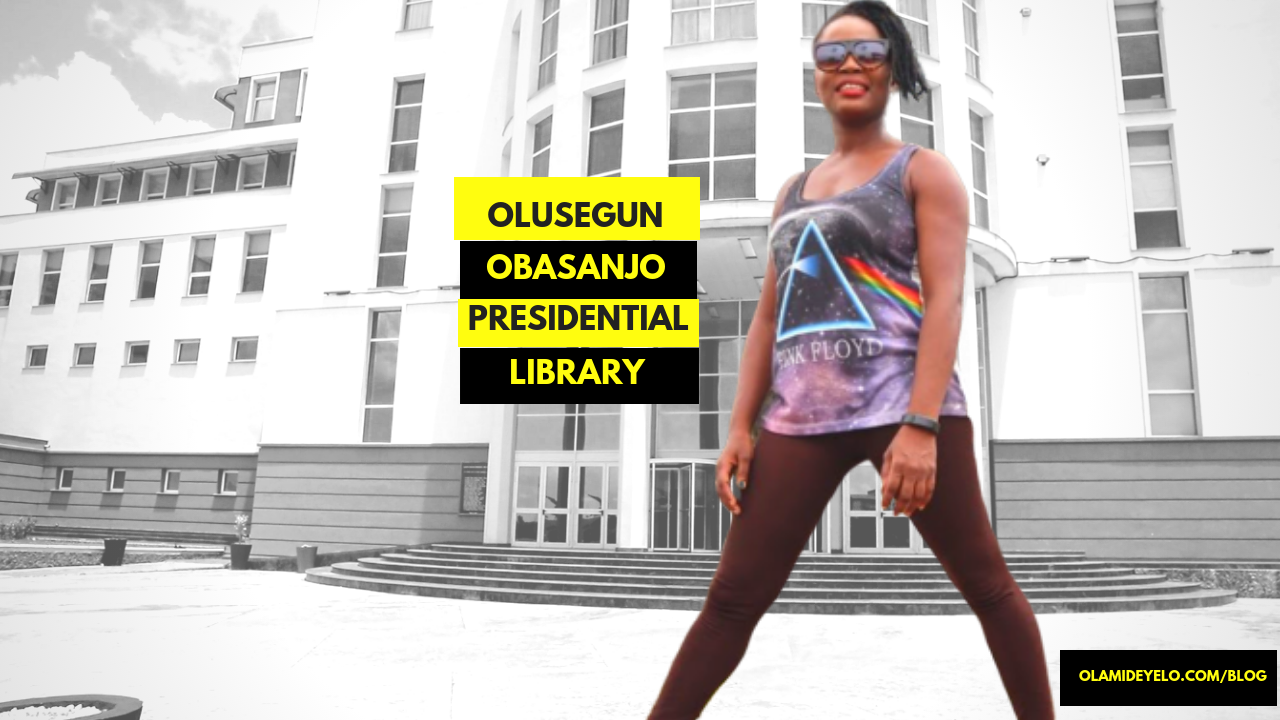 All You Need To Know About The Olusegun Obasanjo Presidential Library
I went on a tour of the tourist centres in Abeokuta sometimes in March with my cousins and our first site was the Olusegun Obasanjo Presidential Library (OOPL). I personally think access to the library is ridiculously overpriced, I opted for sight-seeing the whole complex which cost about N1000 and made the best out of the journey.  I made an interesting video of my time there and below are highlights of my experience. Do watch, comment and share  🙂 *wink*
The Olusegun Obasanjo Presidential Library (OOPL) is owned by Chief Olusegun Obasanjo, a former President of Nigeria. It is a historic, tourist and academic centre regarded as a national archive for the Conservancy of documents and historical items used by the president during his tenure as the president of Nigeria from 1999 -2007. This library is located in Abeokuta, Ogun State, Nigeria.
The Olusegun  Obasanjo Presidential Library is the 14th presidential library in the world and first in Africa; there are 13 in America. As the first on the African continent, the Obasanjo Presidential Library seeks to promote Nigeria on the world stage, inspire other African nations in the development of democracy, and preserve the past for the benefit of the future.
The Olusegun Obasanjo Library occupies sixty-four (64) hectares of land and consists of religious, recreational and educational tourism. The library aims at  "preserving the past, capturing the present, inspiring the future, projecting culture and promoting tourism". It is ringed by an attractive mountain and green vegetation giving it a terrific mix of scenery and culture.
Do watch the video and subscribe to my YouTube channel here for more exciting videos
Here are some of the major highlights and interesting facts about The Obasanjo Presidential Library:
The library for researches and studying.

The Green Legacy Resort, comprising of 153 rooms to accommodate visitors, allows lodgers to have access to visit the library without extra charges. It is the major source of income in Obasanjo Library, unlike America where the government takes care of the library, The Olusegun Obasanjo Library is managed and maintained by Olusegun Obasanjo. 

400 and 500 seater halls for events and parties.

An amusement park, which will definitely send children into whoops of joy and excitement, likewise games for adults.

A chapel for Christians,  having given his life to Christ while in prison, President Obasanjo vowed to build a place of worship for Christians if/when he got out. The chapel was the first building to be commissioned on the complex. The lord of the manor himself, Chief Olusegun Obasanjo is said to be a Sunday school teacher.

A Christian named school for children to be enrolled in, trained and taught.

A senior citizen centre for the elderly, ages 65 and above, for them to discuss and relax. 

A mosque for the Muslims to worship and a

n Islamic school named after the mosque.

A car wash to keep visitors cars in good shape and presentable.

Adire & African fabrics centre, to project culture the best way possible. Keeping the aim of the library alive.
A youth development centre.

The grill house – is more of a bar and mini entertainment centre 

Swimming pools for both children and adults to relax in.

Honeymoon suite for newlyweds.

Recycling plant

Mountain of inspiration where it is believed that every prayer said there is answered.

 And many more exciting places to visit for your comfort, relaxation and enlightenment.
Although my payment plan didn't include touring the library itself, I enjoyed sight-seeing and touring the complext. It is a fun place to visit with your friends and families. Do watch the video and subscribe to my YouTube channel here for more exciting videos