Are you just out of school or looking for an exciting new career or need a side hustle to get you going? If all your answer is YES and you know your way around Facebook, Twitter or Instagram, social media management could be for you. You can expect to focus on building a social media following through posting likeable content, running ads, analysing user data, and staying on top of insta-worthy events.
Become A Social Media Media With No Experience
In this video, I will share tips on how you can become a social media manager with little or no experience.
My name is Olamide and if this is your first time on my blog,  I invite you to click HERE to subscribe to my channel and turn on notification so you won't miss insightful updates from me just like the one you are about to watch below
WHO IS A SOCIAL MEDIA MANAGER?
A Social media manager is responsible for curating a brand's social channels, They monitor, moderate and respond to audience comments; manage social media partnerships with other brands; and create and/or post shareable videos and images.
1. START WITH YOURSELF AND BUILD
Create your own pages on all major social media platforms, including at least Facebook, Instagram, Twitter, LinkedIn, and maybe Snapchat. Use these pages to practice building, engaging and maintaining an online community. Actions often speak louder than words, you need to able to show what you can do if and when given the opportunity. – STARTED OUT THIS WAY WITH ON MY PERSONAL SOCIAL PAGES IN 2009 AND GOT MY FIRST GIG BEING A SELF TAUGHT SOCIAL MEDIA MANAGER
2. TAKE SOCIAL MEDIA COURSES
there are loads of free resource on YouTube and Google you can leverage to get started. Platforms like Udemy EDX, Coursera etc offer hands-on social media specialization course. Take advantage of these platforms to get yourself acquainted with the business of social media.
Unboxing My Kindle PaperWhite And First Impressions
3. HAVE OR DEVELOP THESE SKILLS
Creative thinking, multitasking, efficient time management and excellent communication are must-have skills you can't do without. if you want to be an amazing social media manager.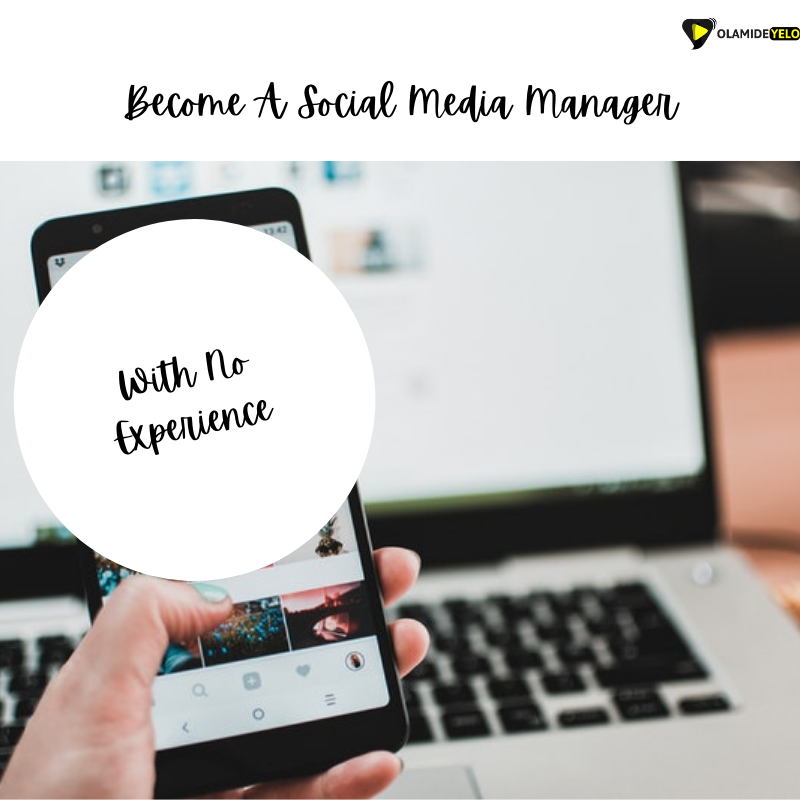 4. VOLUNTEER
Look out for businesses or brands you can help with marketing or start strategy on. You can execute some for free and change for others.  Oftentimes, smaller non-profits and businesses need help in social media but don't have the budget to hire for it. This can give you the space to learn the needs of the position, as well as build your experience in the digital space.  In all of these, do not undervalue yourself. With this process, you can build your portfolio.
5. GET MENTORSHIP OR BE PART OF COMMUNITIES
on Facebook, Twitter, LinkedIn, follow known leaders in the field, follow conversations on Twitter, attend webinars and other community-related activities. This is a great avenue to learn and build networks that will be helpful in your social media career journey
 6. EXPLORE  GIGS ON LINKEDIN, YOUR NETWORK, ONLINE WORK PLATFORMS
Take any opportunity you can get, no matter how small A great way to get started s by picking up gigs here and there that are related to social media management. Don't underestimate the power of experience here, as even small opportunities can show a company their need for social media management. You can start with an entry-level role. Explore online work or remote job platforms like Upwork, reach out to your LinkedIn connects and other platforms
7. DON'T STOP LEARNING
keep updating yourself with new trends, listen to podcasts, watch YouTube videos, attend webinars, ask questions. Don't stop learning
https://olamideyelo.com/top-3-freelancing-platforms-2020/