In this blog post, I will be sharing the key insights I gained from the Personal and Professional Skills Development (PPSD) module, which is an essential component of my MSC Strategic and Digital Marketing Experience Series. You can find the previous and subsequent parts of this series HERE.
During my 12-month academic journey, I set specific goals for myself using the SMART framework in my Personal Development Plan (PDP). These goals included completing my Master's program, obtaining various certifications, enhancing my skills, and completing soft skills courses. Achieving these objectives was crucial to my growth as both a professional and an individual.
Initially, when I created my 2022 Personal Development Plan, I was still adjusting to postgraduate life and uncertain about my study objectives. As the academic year progressed, I began to realize the need to realign my goals with my long-term career aspirations. This led to some tough choices, and I decided to focus on certifications that would benefit my professional growth and career path. Although these choices were challenging, they proved vital in finding a balance between personal and professional development.
Certifications and Courses I Completed in the Module
In my Personal Development Plan (PDP), I aimed to complete at least five CIM webinars. However, due to the heavy workload of my course, I was only able to complete three webinars that specifically benefited my professional path. One of these webinars was "Latest Trends in Digital Marketing 2022," which provided valuable insights into upcoming trends such as artificial intelligence, podcasting, email marketing, and Google search algorithm changes in 2023. These insights were highly relevant to my career path.
Initially, my goal was to complete only the HubSpot Digital Marketing certification and the video marketing course. However, with guidance from the PPSD course instructor, Alexandra Hollyman, I also enrolled in the HubSpot Inbound Marketing certification, which proved to be highly relevant to my extensive marketing experience and employability prospects.
HubSpot Certifications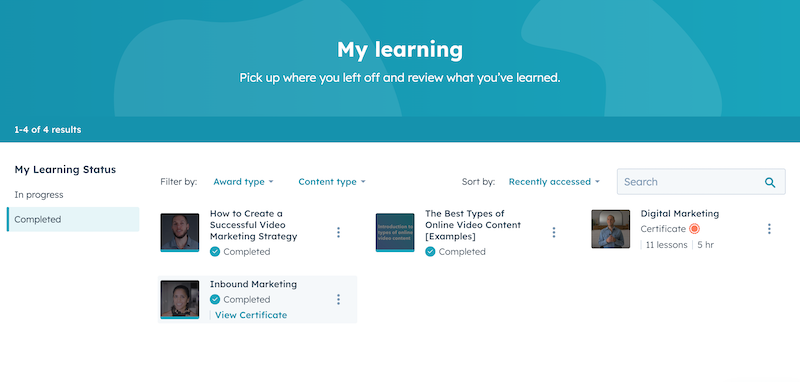 The HubSpot Video Marketing course: This course was also a revelation, as it emphasized the power of video in business strategies and how consumers prefer video content from brands. The course provided insights into different types of videos for the buyer's journey and the "3 C's" of video marketing: commitment, calendar, and content.
HubSpot Inbound Marketing Certification: I completed the HubSpot Inbound Marketing Certification in February 2023, which emphasized customer understanding, buyer personas, and the importance of tailoring content to their needs. I was inspired to improve my marketing strategies and content creation, using tools like surveys, forms, and interviews to gather customer insights.
HubSpot Digital Marketing Certification: I also earned the HubSpot Digital Marketing Certification on November 27, 2022, which taught me about content ranking, blog post writing, and paid advertising. This has given me the competence and confidence to excel in the field, and I plan to use these skills to enhance digital marketing strategies in my future endeavors.
The HubSpot Inbound and Digital Marketing Certifications have been important achievements in my professional career. They have given me valuable insights and practical tips that will undoubtedly contribute to my success as a digital marketer, marketing consultant, and content creator.
The Institute Of Data And Marketing Certifications 
Apart from the certifications and courses mentioned above, I also obtained three (3) certifications from The Institute of Data and Marketing (IDM), which have significantly enhanced my skill set. These certifications include the IDM Certificate in Digital and Data-Driven Marketing, the DMA Award in Marketing, and the DMA Award in General Data Protection Regulation (GDPR). These accomplishments are significant milestones in my journey of professional development and have added a substantial layer of knowledge and competence to my skill set.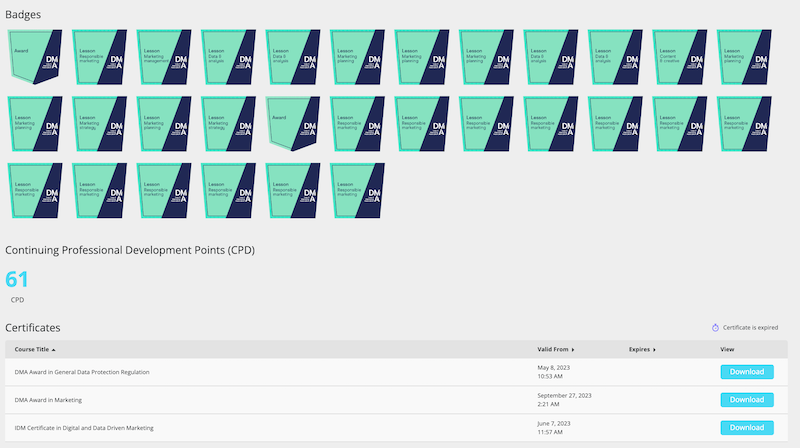 The IDM Certificate in Digital and Data-Driven Marketing: After passing an online test that was given out through the IDM platform, I received a certification. I gained a thorough grasp of the digital marketing environment as a result of the process.  It addressed data-driven tactics, highlighting how important data is in influencing marketing choices and initiatives.  This certificate has greatly improved my data analytics, consumer behavior assessment, and marketing campaign optimization skills.
DMA Award in Marketing: I also achieved the DMA Award in Marketing, which represents a significant accomplishment in my marketing journey. It demonstrates a thorough understanding of marketing concepts, including branding, consumer behavior, market research, campaign management, and best practices.
DMA Award in General Data Protection Regulation (GDPR): I received the DMA Award in General Data Protection Regulation (GDPR), a major data protection and privacy achievement.  Protecting personal information and following regulations are critical in the current digital era.  I can now navigate GDPR and other data protection and privacy regulations thanks to this certification. It has prepared me to responsibly handle sensitive customer data in accordance with global data protection laws by teaching me data handling law and ethics.
ALSO READ: How To Become A Social Media Manager Without Experience
In Conclusion  
These certifications I obtained demonstrate my commitment to professional growth and staying updated with the latest trends and best practices in digital marketing and data management. My skill set has grown as a result of them, and I can not wait to use them on client and personal projects. I am sure that these successes will be important tools for me to use as I continue on my path in marketing and digital strategy to succeed and have a significant influence on the industry. 
The PPSD module was the most impactful part of my postgraduate study. It motivated me to constantly ask, "What's next?" The engaging tasks, interactive discussions, and personal stories shared by Alex Hollyman encouraged me to continue pushing forward in my marketing journey. The provided resources and tools were invaluable and played a significant role in re-evaluating and aligning my certifications, courses, and webinars with my goals. I am confident that the skills I gained from this module will guide my marketing consulting endeavors.